Al urjoonul qadeem of Rabi-al-Awwal 1438: December 28 & December 27, 2016
On right is the old Crescent Moon (End of Rabi al-Awwal 1438 AH), December 28, 2016 (not the new moon to start Rabi-at-Thani), (Photo on the right is provided by MCW member, Dr Ayyub Patel from Abha, Saudi Arabia): This is decreasing moon that was sighted in Abha, Saudi Arabia after Fajr around 6 am. Click on the photo on the right to see full size.
---
Also, MCW member, Captain Tahir Gul Hasan from Lahore reported that he saw the old crescent from the airplane on Wednesday 28 December 2016, flying from Jeddah to Lahore (at 37,000 feet) at 0531 (Saudi Arabian time). Azimuth: 111 degrees. Altitude: right on the horizon. WEATHER: Absolutely clear at 37,000' (10,300 metres). ORIENTATION: 'C' shape, with horns facing UP (a round bowl lit from exactly BELOW by the sun). Click on the photo below to see full size.




---
New Crescent Moon of Rabi-at-Thani 1438:
The Astronomical New Moon (conjunction) is on December 29, 2016 (Thursday) at 6:53 UT. On December 29, the moon may be seen in USA with binoculars/telescopes. On December 30, it can easily be seen all over the world except Japan, New Zealand and Australia, where it will be seen on December 31 (See visibility curves).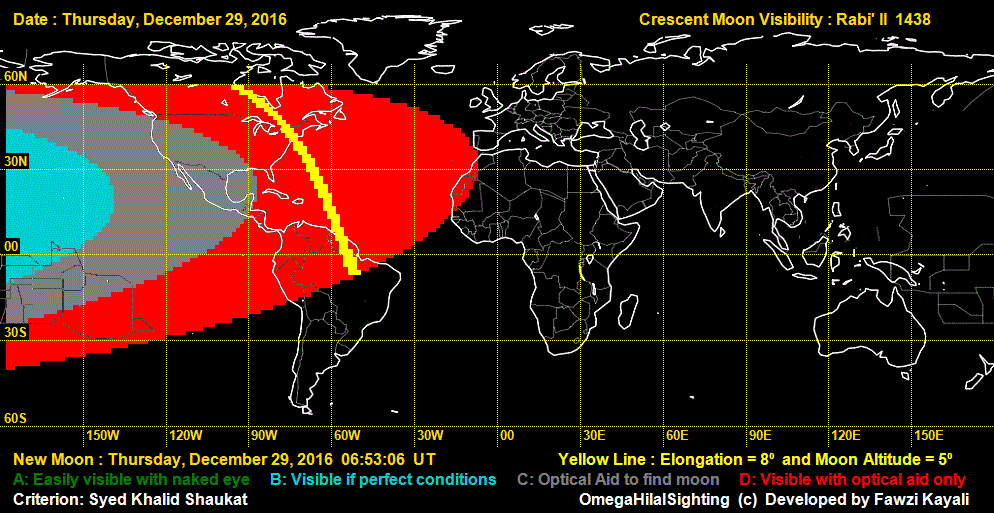 The earliest reported sighting of the new crescent was on Dec 30, 2016 from Bandung, West Java, Indonesia.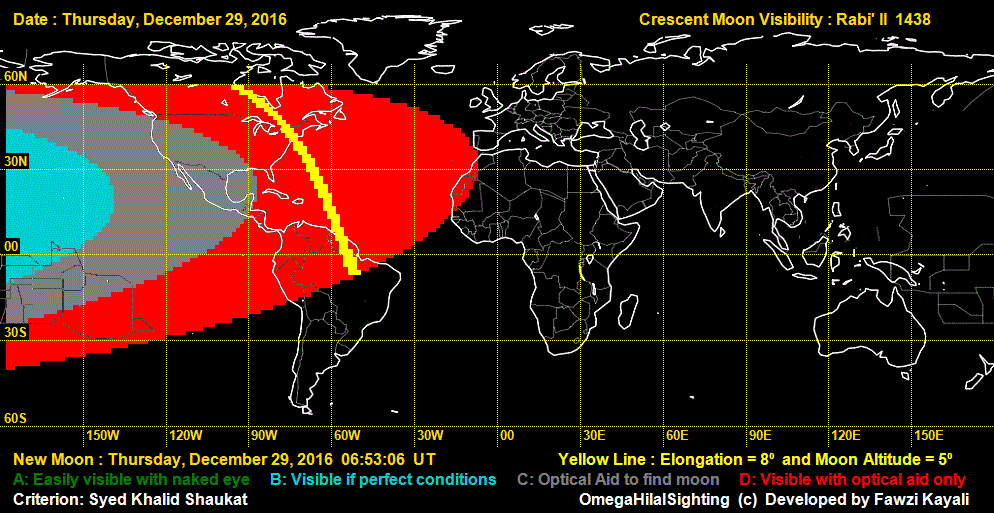 December 29, 2016 (Thursday):
India:

Not Seen:

MCW member Dr Sayyad Mohd Arshi from Dehradun reported: In Dehradun, 29th December 2016 was 29th Rabi ul Awwal 1438 hijri (Thursday), and I & my family tried to see the moon of Rabi ul-Thani at my home from 05:35 pm to 05:55 pm but moon was not sighted, Horizon was clear.

Morocco:

Not Seen:

MCW member Mr Ehsan H. Hajar from Casablanca reported: Rabi ul-Thani CRESCENT NOT SEEN with clear sky but humid horizon in Casablanca. I wasn't able to spot the new Hilal of RBT. It's now two hours past Sunst. Habous ministry doesn't show any sighting either.

South Africa:

Not Seen:

MCW member Dr Abdurrazak Ebrahim from Cape Town reported: Hilaal not sighted in South Africa December 29. The 1st of Rabi "2" will correspond with Saturday, 31/12/16

Tanzania:

Not Seen:

MCW member Mr Hamza Rijal from Tiny Island of Zanzibar reported: No sighting on December 29th, 2016. We will complete 30 days for Rabiu Awal in tiny island of Zanzibar, Insha-Allah Saturday 31st December 2016 we expect to be the first day of Rabiul Thani 1438 AH.

Trinidad and Tobago:

Not Seen:

MCW member Umar Abdullah from Bon Accord, Tobago reported: The crescent moon to commence the month of Rabi' ath-thani 1438 AH was looked for after the sunset of Thursday 29th December 2016. Reports from all committees locally and regional confirm that the moon was NOT SIGHTED. We have accepted these reports and has declared that the month of Rabiul Awwal 1438 AH will complete 30 days and the 1st night of Rabi' ath-thani 1438 AH will be the night of Friday 30th December 2016 and the first day of Rabi' ath-thani 1438 AH will be the day of Saturday 31st December 2016.
Location: lat: 10 35 long: 61 21
Time of Sunset: 5:54:33pm
Time of first appearance of the crescent: N/A
Pressure: 1,009.2
Temperature: 24.5 °C
Relative humidity: 48.6%

USA:

Not Seen:

MCW member Mr Mohammed Yahya Shaikh from Anaheim CA reported: I try to sight the hilal on Dec 29th 2016 in Anaheim, CA from 4:45 PM PST to 5:20 PST. The hilal was not visible even with optical aid probably due to thick cloud cover in the lower horizon.
---
December 30, 2016 (Friday):
Australia:

Not Seen: MCW member Mr Abbas Aly from Annangrove NSW reported: There was NO sighting of the moon on Friday, DEC 30th 2017 in Sydney by our sighting committee.
Not Seen: MCW member Dr Shabbir Ahmed, President of Qubaa association of Western Sydney, NSW reported: On Friday, Dec 30, 2016, the Hilaal of RABI'UL THANI has not been sighted anywhere in Australia. Therefore, the month of RABI'UL THANI will commence from SUNDAY 1st of January 2017.
Not Seen: MCW member Engr Manzoor A Mian from Melbourne, VIC reported: The crescent was NOT sighted in Melbourne as well as anywhere in Australia last night 30/12/16 Friday, therefore the 1st day of Rabbi ul-Thani 1438 is Sunday the 1st of January, 2017.

Egypt:

Not Seen: MCW member Dr Hisham M. Hamed from Cairo reported: On Friday, Dec 30th, 2016, From: Giza, Egypt. The Crescent was not seen. I'm afraid that the entire Southwest horizon was obscured by dense grey clouds. The western sky was mostly, if not entirely, cloud free after Asr ~ 15:10. However, by sunset (~17:05), this had changed significantly. The situation deteriorated further, and I gave up around 18:00.

France:

Indonesia:

Seen: MCW member Mr Ahmad I. Adjie from Bandung reported: On Dec 30, 206, the HILAL for Rabiul Thani 1438 was SEEN by, myself, my wife and son Umar in Northern Outskirts of Bandung, West Java, and in Ciletuh Geopark (Sukabumi, West Java) by Abu Sabda and team starting 18:46 local time (UTC +7). In Bandung the horizon had heavy clouds so the HILAL was seen partially (right side of horns) for only 2 minutes. In Sukabumi Abu Sabda's team managed to take a picture of the Hilal using a telescope.

Lebanon:

Seen: MCW member Mr Moussa Khalife from Lebanon reported: Today Friday 30th of December 2016 The crescent has been sighted in Sidon city, Lebanon We have seen the moon for more than 20 minutes from 5 pm to 5:20 pm. The weather was great and the crescent was quite high in the sky So tomorrow Saturday 31st of December is 1st of rabie al Thani 1438 hijri.

Sri Lanka:

Not Seen: MCW member Mr Abdurrrahman Razeen from Colombo reported: Today 30-12-2016AD=29-03-1438AH is the sighting day for the month of Rabeeunissanee 1438AH. I was in Colombo and Went to Nimal road mosque Bambalapitiya 20 minutes before the Sunset.The horizon was cloudy. The parameters are(at Colombol) Sun set:6.05pm. Moon set:7:04pm. Lag=59minutes The prediction of the astronomers=Crescent can be sighted easily. I was associated by bro.Irfan Razik and students of higher grade from an arabic madrasah. We couldn't sight it due to cloudy and the CGM Hilal Committee has received negative sighting reports right round the country. Hence it was decided by the CGMH Committee which was precided by Moulana Riyad (Baari) along with ACJU and MRCA to complete the proceeding month as 30 days and start the month of Rabeeunissanee on Sunday, 1st of January 2017.

Trinidad and Tobago:

Seen by others: MCW member Ishmael Khan from Trinidad and Tobago reported: On Dec 30, 2016, from my area the moon was not seen because of Rainey and cloudy conditions. However, other trustworthy brothers in different parts of the island have confirmed sighting of the moon for RBT. We have accepted this and therefore the night of December 30th is the 1st of RBT and December 31st is the first day of RBT.

USA:

Seen: MCW member Dr Javad Torabinejad from Blacksburg VA reported: This evening (Friday, Dec 30), the crescent moon was sighted in Blacksburg, VA (Lat: 37° 15' 40" N, Lng: 80° 26' 56" W, and elevation: 646 meters). I arrived at my sighting location (the Blacksburg Middle School) at 5:26 pm EST (sunset: 5:13 pm). The western horizon was partly cloudy with a large piece of cloud over the area where the moon supposed to be located. I waited till 5:48 pm for the moon to show up in a small clearing. It was thin but easy to spot. The horns were at 3:00 and 7:30 O'clock (3:00;5:00;7:30). I stayed there till 6:30 pm when the moon was still about 2 degrees above the horizon (moonset: 6:48 pm). At 5:55 pm, the temperature, dew point, relative humidity, and pressure were 29.1 F, 21.2 F, 72%, and 30.07 in, respectively.
---