Al urjoonul qadeem of Jumada-al-Oola 1444: December 23 & December 22, 2022
| | |
| --- | --- |
| MCW member Ayyub Patel took photo of waning crescent of Jumadal-oola from ABHA KSA 6am, Dec 22, 2022. | Here is the photo taken by MCW member K.Mohammed Hussain Palayamkottai Tirunelveli, Tamil Nadu, India on Dec 22, 2022. |
---
New Crescent Moon of Jumada-at-Thania 1444:
The Astronomical New Moon (conjunction) is on December 23, 2022 (Friday) at 10:17 UT.

On December 23, the moon is extremely difficult to see in South America but can only be seen in Polynesian Islands. On December 24, it can be seen every where except most of Europe, where it can be seen on December 25 (See visibility curves).

The earliest reported sighting of the new crescent was on December 24 from Sydney Australia.
December 23, 2022 (Friday):



Not Seen: MCW member Falcon Raja, from Sydney, NSW reported: In Auburn Sydney NSW at 8:11PM 23 December 2022 the horizon is cloudy. Couldn't watch hillal until moonset time. There was a short period of 10 minutes to observe the Hilal.
---
December 24, 2022 (Saturday):
Albania:




Not Seen: but Seen in other locations: MCW member Ebu Xhunejd (Ledjo Hyka) from Tirana reported: We were some groups in different cities. In Tirana and Kruja the hilal was not sighted due to cloudy sky at the west horizont. The moon was sighted by naked in city of Kavaja. So, tomorrow is 01 Jumadal Akhir 1444.

Australia:




Seen: MCW member Dr Shabbir Ahmed, President of Qubaa association of Western Sydney, NSW reported: Today (Saturday) 24th of December 2022, the Hilal of Jamadiyul Ukhra 1444 has been sighted in Canberra. Therefore, the month of Jamadiyul Ukhra 1444 will begin from Sunday, 25th of December 2022.


Seen: MCW member Moussa Khalife from Sydney, NSW reported: Today is Saturday 24th of December 2022 We have sighted the moon easily. The moon was quite high and stayed in the sky for awhile so tomorrow Sunday 25th of December is the 1st of jamada althani 1444H.

Chile:




Seen: MCW member Muhammad Sohail from Iquique reported: Today 24/12/2022 the new moon is sighted in iquique, the North City of Chile at 20:50 local time. Wa Salam

Egypt:




Seen: MCW member Dr Hisham M. Hamed from Dar Es-Salam (29.995°N, 31.228°E), Cairo reported: Tonight, Saturday, Dec 24th, a friend of mine and I had agreed to observe the New Crescent Moon of Jumada'lAkhira. We had agreed on a certain observation point, but never actually made it there. . I was delayed but I did manage to reach the nearest Metro station just before apparent sunset, which was at 17:01 pm. We went off to Maghreb in a nearby Masjid on the eastern bank of the Nile. Interestingly, the view from a window on the western side of the masjid was superb, but neither of us could see anything significant. At 17:19, we were on our way to our intended observation point. A couple of minutes late we reached a point where the south western horizon was clear. There were of course some dark clouds, but the horizon was clear at least 7° either side of the expected location of the Moon. At 17:21 Venus was visible to me, albeit very faintly. My friend could not make it out. There was still no sign of the Moon. It appeared at around 17:24. It was faint and the horns were within 3 o'clock to 6 O'clock. My friend could not make it out until 17:30, which was incidentally best time. Visibility was superb. It had rained yesterday. Temperature, pressure and relative humidity were 19°C, 1002mB, and 46% respectively. We spent another 5 minutes enjoying the view.

Grenada:




Seen: MCW member Farid Patel from Grenada reported: Today, Dec 24, 2022 the Moon was sighted in Grenada for the month of jaamdul Akhra.

India:




Seen: MCW member Zaid Duch from Nadiad, Gujrat reported: I sighted the crescent moon (Hilal) of Jamadil Aakhar 1444; today on Saturday, 24th of December 2022 (29 Jamadil Awwal 1444); at location Kutch, Gujarat, India. The Crescent moon was sighted with a naked eye at 18:22. www.Navimasjid.com

Kenya:




Seen: MCW member Muhammad A Said from Mombasa reported: Today Saturday the 24th of December 2022 / 29th Jumada al-Ula 1444 AH. The weather was slightly cloudy on the western horizon. We were able to see the Hilal by naked eye. Sunday, the 25th of December 2022, is the 1st of Jumada al Thani 1444 AH in East Africa.

Mauritius:




Seen: MCW member Nissar Ahmad Ramtoola from Port Louis reported: Alhamdulillah the New Moon of Jamaad Ul Akhir 1444 has been easily sighted in many localities in Mauritius tonight Saturday 24 December 2022. Hence Sunday 25 December 2022 will be the 1st Day of Jamaad Ul Akhir 1444.

South Africa:




Seen: MCW member Keeka, Mohamed Iqbal, from Pretoria reported: The Hilaal for Jumad al Akhirah 1444 was sighted in South Africa this evening (24 December 2022) marking the immediate start of the month.


Seen: MCW member Rashid Motala from Durban reported: On the evening of Saturday 24 December 2022, the Hilaal WAS sighted in South Africa. Therefore Jumad-al-Aakhirah 1444 will commence on Sunday, 25 December 2022 in South Africa.

Sri Lanka:




Seen: MCW member Shafraz Macksood from Colombo reported: Western sky of Colombo Sri Lanka was cloudy but at about 6.25pm bright Venus started to appear between clouds. Using Venus as the guide star I was able to spot the crescent with Naked eye with difficulty for around 10 minutes maximum up to 6.35pm.

But unfortunately Colombo Grand Mosque Hilaal Committee decided to complete 30 days and start the new Month on the 26th December based on their own sighting reports and criteria.

USA:




Seen: Council of Shia Muslim Scholars in North America announced: The Moon-Sighting Committee of the Council of Shia Muslim Scholars of North America announces that Sunday, December 25th, 2022 will be the first day of the month of Jumada al-Akhira, 1444 A.H. for the entire region of North America.
This determination is based on the fact that there were verified sightings of the crescent moon by the naked eye at sunset on Saturday, December 24th, 2022 in many different locations in the United States.


Seen: MCW member Shahnoor Syed, On Behalf of Mahdavia Ruiyat e Hilal of Chicago, IL reported: Hilal of Jamadi us Sani 1444H was sighted at multiple locations across mainland USA by our Shahideen- Mahdavia Rui'yat e Hilal volunteers who gave their Shahadat (testimony in the name of Allah).


Seen: MCW member Dr Javad Torabinejad from Blacksburg VA reported: This evening (Saturday, December 24, 2022), the crescent moon was sighted in Blacksburg, VA (Lat: 37° 15' 40" N, Lng: 80° 26' 56" W, and elevation: 646 meters). I was at my sighting location by 4:41 pm EST (apparent sunset: 5:01 pm and actual sunset: 5:06 pm). The western horizon was partly cloudy and hazy. Using a pair of binoculars (7X50), soon I started looking for the crescent. My first binocular sighting of the crescent moon was at 4:48 pm. It took me another 21 minutes to positively sight the moon at 5:09 pm with naked eye. The horns were approximately at 2:00 and 6:30 O'clock (2:00;4:00;6:30). Venus and Mercury were also sighted first with the binoculars and then with naked eye. I left the area at 5:50 pm when the moon was still up (moonset: 6:22 pm). At 4:55 pm, the temperature, dew point, relative humidity, and pressure were 16.0 F, 6.0 F, 64%, and 29.95 in, respectively.


Seen: MCW member Norm Vargas from Mount Wilson CA reported: The crescent moon was sighted by eye at 5:20 pm on December 24, 2022 from San Gabriel, CA. It was above and to the left of Venus.


Seen: MCW member Gulamabbas A. Khakoo from Anaheim, CA reported: Sighted with naked eye the Crescent Moon of Jamad ul oula on Dec 24th 2022 at 5:16pm local time in Anaheim, California USA. The crescent horn was 2and 8.
---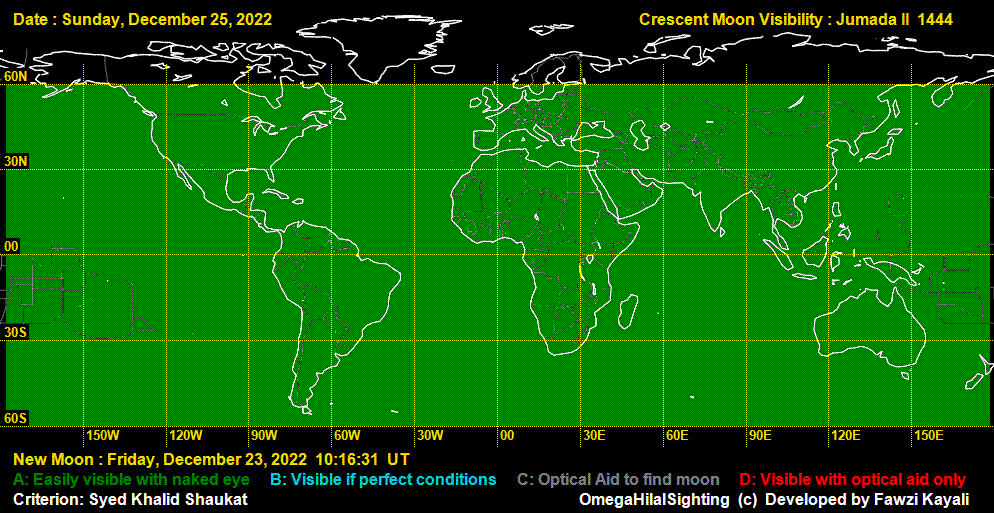 December 25, 2022 (Sunday):
---