Moonsighting for Jumada-al-Oola 1433
The Astronomical New Moon is on March 22, 2012 (Thursday) at 14:37 UT. On Thursday, March 22, it can not be seen anywhere in the world by naked eye. Using telescope in North America, it is slight possibility. However, on Friday, March 23, 2012, it can be easily seen in Europe, Northern Africa, Central and North Americas, and some parts of South America, but with difficulty in Asia, and certanily not in Australia (See visibility curves).
Sighting Reports
The earliest reported sighting of the new crescent by telescope was on March 22, 2012 from Tucson, Arizona (USA) by a very experienced MCW observer, Jim Stamm. First reported naked eye sighting was on March 23, from Lelystad, Netherlands.
---
Thursday, 22 March 2012:
USA:

Seen by telescope only:

Jim Stamm (MCW member) from Tucson AZ reported:

Observed:   Thursday; March 22, 2012  -  18:48 (Local)

Location (WGS 84)     = Tucson, Arizona (USA)
  Longitude = 110.9808 W
  Latitude  =  32.4322 N
  Elevation = 876 meters
  Time Zone = -7.0 hours

Surface conditions at location:
  Temperature =  22 °C
  Humidity    =  18 %
  Pressure    =  29.84 in.

  Only slight haze kept the sky from being perfect.

  Magnitude limit at 2 degrees altitude with 80 power
  in C-8 telescope, after the end of twilight  =  9.6

Topocentric and local time values from "Accurate Times":
  Sunset (at sea level)   =  18:42
  Moonset (at sea level)  =  19:06
  Time from new moon at   18:48   =  12 hr. 17 min.
  Moon lag time                   =         24 min.
  Relative Altitude               =    4.9  degrees
  Elongation from sun             =    6.0  degrees
  Crescent width                  =      5  arc seconds
  Illumination                    =   0.28  percent

Crescent first observed through 8" SC telescope:
  Time   =   18:48
  Moon Altitude  =  1.5 degrees




UK:

Not Seen:

Aziz Raje (MCW member) from Ilford Essex reported: We had heavy clouds in north and south of the country on Thursday evening 22nd March so we were not able to look for the Hilal. We have received no news of actual sighting from anywhere else to the east of UK and we have received written confirmation of negative sighting from the Ministry of Awqaf in Morocco. Wifaq ul Ulamaa' have therefore decided that we will complete 30 days of the Month of Rabi ul Thani and the Month of Jumad al Oola 1433 in the United Kingdom will commence from Saturday 24th March 2012 Insha Allah.
---
Friday, 23 March 2012:
Australia:

Not Seen:

Dr. Shabbir Ahmed (MCW member) Imam of Rooty Hill Mosque Sydney, NSW reported: On Friday 23rd March 2012, the Hilaal of Jumadal-Oola 1433 has not been sighted anywhere in Australia. Therefore, the Hilaal Committee and Majlisul Ulamaa' of Australia have stated that the month of Jumadal-Oola 1433 will commence from Sunday, 25th March 2012.

Indonesia:

Not Seen:

AR Sugeng Riyadi (MCW member) from Surakarta, Java reported: On Friday, March 23, 2012 the New Crescent of Jumadal Oola 1433 AH was NOT SEEN from Assalaam Observatory, Surakarta Central Java Indonesia, because the sky was cloudy.

Kuwait:

Not Seen (Cloudy Sky):

Hussain Khushaish (MCW member) from Kuwait reported: in Kuwait on Friday 23 Mar 2012, I could not see the crescent even with 10*50 binocular, the western horizon was cloudy.

Malaysia:

Not Seen (Cloudy):

Firdaus Mazlan (MCW member) from Johor Bahru reported: On Friday, 23th March 2012 (29th Rabi-al-Thani 1433 H), I with my friends (Mr. Jamaluddin bin Abu Bakar, Mr. Mohd Hizri bin Md. Aris, Mr. Muhammad Ibrahim bin Jamil, Mr. Nik Mohd Ridzuan, Mr. Mohammad Azrai, Mr. Zainal Abiden bin Mohd Hani, Mr. Muhammad Zulfaqar bin Azmi, Mr. Azrul Nizam, Mr. Asmanizam bin Ghani) cannot see the new moon either with telescope or with naked eye at Baitul Hilal, Teluk Kemang, Negeri Sembilan, Malaysia (02:26:43.0 N , 101:51:16.0 E). It because the horizon is very cloudy.

Mauritius:

Not Seen (Cloudy Sky):

Goolam Tegally (MCW member) from Port Louis reported: Hilal for Jumada-al-Oola 1433, was not sighted this evening, Friday 23 March in Mauritius due to cloudy sky. Hence, Sunday 25th March shall be 1st Jumada-al-Oola.

Netherlands:

Seen:

M.D. Karamatali (MCW member) from Lelystad reported: Today march 23 we have seen the new moon in Lelystad and also in Amsterdam at 19:30 local time.

Nigeria:

Not Seen:

Imam Majolagbe Monsuru (MCW member) [The Mufti of Ikorodu], Lagos reported: We searched for the crescent of jumadal oola yesterday, March 23 2012 (Friday) from 7:05 till close to Isha but was not seen. We wish to continue our search today March 24 2012 (Saturday).

Pakistan:

Not Seen:

Sultan Alam (MCW member) from Karachi reported: Today (Friday, 23 March 2012= Pakistan: 29 Rabee-uth-Thani 1433) on my request, nearly 100 persons ( members of the moon-sighting committees of our institute "JAMIA-TUR-RASHEED" + my friends + their companions) tried to sight the moon all over Pakistan nearly at 15 places but the moon could not be sighted. It was clear or little hazy generally. Note 1: Chairman of central official moon sighting committee of Pakistan mufti Munee-bur-Rahman told me on my mobile phone that as he also did not receive any positive report hence he officially announced that Saturday 24th March 2012 is 30th Rabee-uth-Thani 1433 and Sunday 25th March 2012 is 1st Jumadal-oola 1433 AH in Pakistan Note 2: Inshaallah, a detailed report of this observation will be available soon in Urdu.

South Africa:

Not Seen:

Rashid Motala (MCW member) from Durban reported: The Hilaal was not sighted this evening (March 23) in S. Africa. 30 days would be completed for the current month.

USA:

Not Seen (Cloudy:

Javad Torabinejad (MCW member) from Blacksburg VA reported: This evening (Friday, March 23, 2012), the crescent moon was not sighted in Blacksburg, VA (Lat: 37° 15' 40" N, Lng: 80° 26' 56" W, and elevation: 646 meters). I arrived at my sighting location at 7:35 pm EDT (sunset: 7:36 pm) and started scanning the cloudy western horizon, hoping for clear patches to appear. That did not happen! I stayed there till 8:00 pm (moonset: 8:54 pm). At 7:55 pm, the temperature, dew point, relative humidity, and pressure were 71.6 F, 60.8 F, 69%, and 30.03 in, respectively.

Seen:

Ms. Ruth Jeffery (MCW member) from Bridge City, TX reported: The new moon sliver was sighted in Bridge City, TX, on March 23rd at 7:43 p.m. by three adult witnesses. The air was extremely clear and the crescent was very small despite its age, lovely to see.

Seen:

John Caldwell (MCW member) from McDonald Observatory, TX reported: On March 23, Friday, sunset was 20:10. New moon was visible by binocular visible from 20:14, and by naked eye visible from 20:20.
---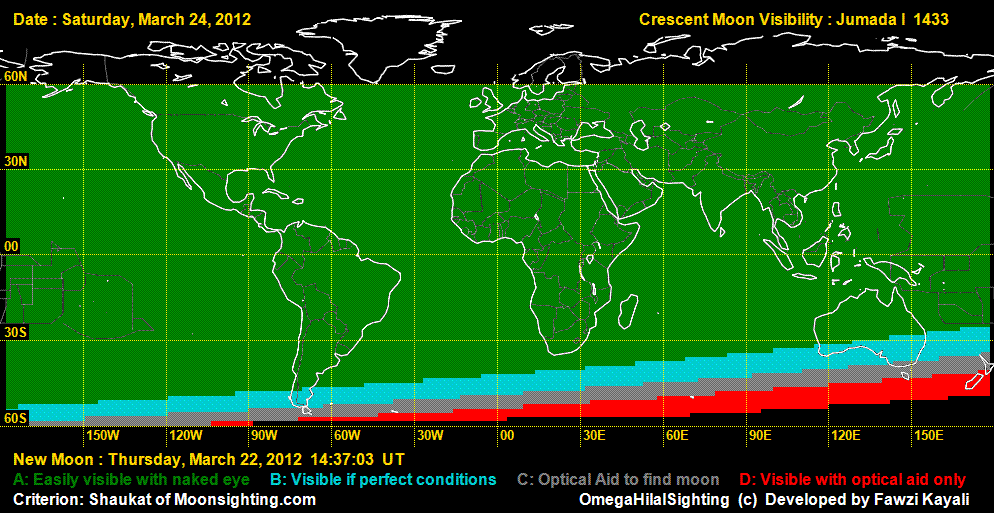 Saturday, 24 March 2012:
Fiji Islands:

Seen:

M Shamim Ali (MCW member) reported: New Moon for the month of Jumada-al-Awwal was sighted on Sat 24/03/2012 at Korovuto, Nadi and 1st Jumada-al-Awwal, 1433H commenced on Sunday 25th March 2012.

Malaysia:

Seen:

Zaki Afifi (MCW member) from Kangkar Pulai, Johor reported: Friday: The crescent was not seen, due to heavy cloud close to the horizon, from Baitul Hilal, Teluk Kemang, Malaysia. Saturday: 7:40pm, the crescent was clearly visible to myself and my father on our way back from maghrib prayer, in Kangkar Pulai, Johor, Malaysia.
The Malaysian government has set the first day of Jamadil Awal was on saturday, based on hisab.
---