Al urjoonul qadeem of Jumada-al-Oola 1439: February 15, & February 14, 2018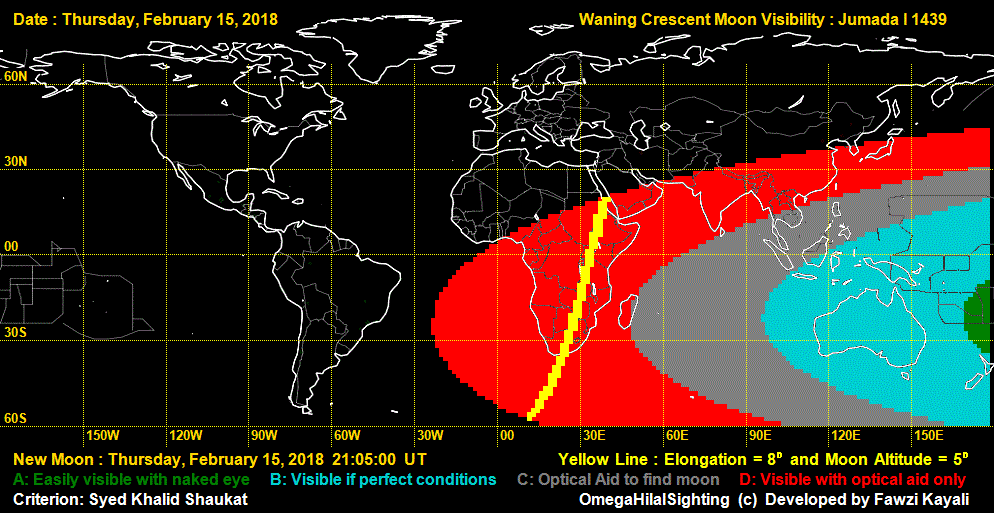 New Crescent Moon of Jumada-at-Thania 1439:
The Astronomical New Moon (conjunction) is on February 15, 2018 (Thursday) at 21:05 UT. On February 15, the moon is not visible anywhere. On February 16, the crescent moon can be seen in Americas and part of Western Africa. On February 17, it will be easily visible almost everywhere in the world. (See visibility curves).
The earliest reported sighting of the new crescent was on 16th February 2018 from Bakoven, Cape Town, South Africa.
February 15, 2018 (Thursday):
No Reports of Moonsighting
---
February 16, 2018 (Friday):
Australia:





Not Seen:

MCW member Dr Shabbir Ahmed, President of Qubaa association of Western Sydney, NSW reported: Today (Friday) 16th of February, the Hilaal of Jamaadiyul Thaniyah has not been sighted anywhere in Australia. Hence Moonsighting Committee Australia has declared that the month of Jamadiyul Thaniyah will commence from Sunday 18th of February 2018.

Canada:





Not Seen:

Mr Syed Shahid Rashid from Mississauga, ONT reported: Not sighted - In our city today sunset was at 5.51 PM and the moonset at 6.46 PM. The sky was very clear which is quite rare for us! The moon was more than 24 hours old and I was very excited with all these conditions. However, I was not able to sight the moon up to 27 minutes after sunset. I did not use any optical aid.



Not Seen:

MCW member Mr HiMY SYeD from Vancouver, British Columbia reported: On Friday, Feb 16, after praying Maghrib in downtown's Granville Street Musallah, I crossed the Cambie Street Bridge searching for the new moon. Due to partial clouds on the horizon, I did not see nor can I confirm a new moon was visible. Therefore, this is a negative moonsighting report from Downtown Vancouver Canada for Friday February 16 2018.

Ghana:





Not Seen:

MCW member Mr Malik Salifu Shaban from Garu Bawku reported: The crescent for Jumada Saani did not appear here today 16th February 2018 in Garu in upper East region of Ghana. I went out to Tanglongo, a suburb of Garu to check for new moon. The weather was clear and bright but no crescent was seen.

India:





Not Seen:

MCW member Mr Iliyas Siddiqui from Bangalore reported: From Bangalore tried to see the New Moon on 16th Feb (JA) 2018 . Cannot be seen by Naked eyes. Weather quite Cloudy.



Not Seen:

MCW member Mr Yusuf Idara from New Delhi reported: Today Friday 16-02-2018 = 29-Jumadá al-ulá-1439 Hijri. I tried to see the moon at my home from 06:15 pm to 06:45 pm but the moon was not sighted because horizon was too cloudy but In Sha Allah 1st Jumadá al-akhirah wil be 18th of February 2018 according by the local Hilal Committee Of India.

Morocco:





Not Seen:

MCW member Mr Ehsan H. Hajar from Casablanca reported: It was impossible to sight JMT crescent nor any object from my location in Casablanca Morocco following SS to Moon set today. The sky was totally covered with dark humid horizon; mostly cloudy. Temp low near 13c. DP 12c Humidity 92% pressure 1023 mb.
We are awaiting Habous decision to declare beginning of JMT as today our calendar shows Friday, JMO 29th.
Further to my earlier report , Habous gov.ma has too announced that JMT CRESCENT WAS NOT SIGHTED IN MOROCCO EITHER , THEREFOR JMO WILL COMPLETE THIRTY DAYS ON SATURDAY, AND SUNDAY Feb.18th will be first day of JMT.

Saudi Arabia:





Not Seen:

MCW member Dr Ayyub Patel from Abha reported: Today according to Ummul Qura Calendar, it's the 30th Jamadi Awwal. We confirm no sighting with naked eye at 6.30pm Abha Saudi time. Initially with a pair of binoculars we saw venus. Sky Map app showed that the crescent would be very close to venus. We could see Venus by naked eye but no hilal cresecent.

South Africa:





Seen:

MCW member Mr Rashid Motala from Durban reported: On the evening of Friday 16th February 2018, the Hilaal was sighted in South Africa. Sighting point was Bakoven, Cape Town. This was by an experienced regular Hilaal sighting team. Therefore Jumad-us-Thaani 1439 will commence on Saturday 17th February 2018 in South Africa.
On right see the certificate signed by moonsighting Committee.



Seen:

Wifaqul Ulama of South Africa reported: On Feb 16, 2018, moon was sighted in South Africa. Wifaqul Ulama have therefore decided that 29 days of Jumadal-Ula will be completed and Jumadat-Thania 1439 began from Saturday, the 17th of February 2018.

Tanzania:





Not Seen:

MCW member Mr Hamza Rijal from Tiny Island of Zanzibar reported: On February 16, 2018 the Hilal for Jumada-at-Thani has not been sighted in tiny Island of Zanzibar and in neighbour East African states (Kenya, Uganda, Tanzania mainland), hence the month of Jumada-at-Thani will commence on Sunday 18th February, 2018.

Trinidad and Tobago:





Not Seen:

MCW member Mr Umar Abdullah from Bon Accord, Tobago reported: The crescent moon to commence the month of Jumaadal Aakhirah 1439 AH was looked for after the sunset of Friday 16th January 2018. Reports from all committees locally and regional confirm that the moon was NOT SIGHTED.
We have accepted these reports and have declared that the month of Jumaadal Uulaa 1439 AH will complete 30 days and the 1st night of Jumaadal Aakhirah 1439 AH is the night of Saturday 17th February 2018, and the first day of Jumaadal Uulaa 1439 AH is the day of Sunday 18th February 2018.

UK:





Not Seen:

MCW member Mrs Jamilah Amal from Liverpool reported: On 16th February 2018 (29th Jumada al Ula), I Observed skyline with naked eye prior and after sunset. I was unable to see crescent due to very cloudy weather conditions".

USA:





Seen w/telescope before sunset:

Mr Norm Vargas from Mount Wilson Observatory CA reported: On Feb 16, 2018, the thin crescent moon was seen by one observer with an 80mm spotting scope at 1:29 pm PST from Mount Wilson Observatory in California, elevation 1700 meters. The offset from Venus of just 2.5º allowed me to move from Venus to the crescent and it was seen, although it was the most difficult crescent I have successfully viewed. The contrast of the moon and the pale blue sky was so slight that it was hard to maintain a clear view. The crescent was about 120º in arc and nearly facing straight to the right. I could not find it in 10x42mm binoculars. Temperature was 11º C and humidity was 30%. I will try again this evening.



Seen after sunset:

Mr Norm Vargas from Mount Wilson Observatory CA reported: On Feb 16, 2018, the crescent moon was found with an 80mm spotting scope at 5:38 pm using Venus as a guide. Local sunset was at 5:44 pm as the sun set into a distant mountain range. It was first detected with the naked eye at 5:53 pm. The maximum arc of the crescent was 140º. Cell phone images were obtained starting at 5:40 pm. It was observed until 6:34 pm as it set into a distant line of clouds. Three passers by also enjoyed the view and did see it with the naked eye for a total of four adults seeing the crescent.



Seen:

MCW member Mr Mohamedraza H.Janmohamed from Sanford FL reported: The Moon-sighting Sub-committee wishes to inform the community that the new crescent for the month of Jamadi-ul-Aakher was sighted in Orlando, Florida, as well as other cities on Friday, February 16, 2018. Therefore, SATURDAY, FEBRUARY 17, 2018 is established as the 1st Day of Mahe Jamadi-ul-Aakher, 1439 AH.



Seen:

Council of Shia Muslim Scholars in North America reported: The Moon-Sighting Committee of the Council of Shia Muslim Scholars of North America announces that Saturday, February 17th, 2018, will be the first day of the month of Jumada al-Akhirah, 1439 A.H. for the entire region of North America. This determination is based on the fact that there were reported sightings of the crescent moon by the naked eye during the sunset of Friday, February 16th, from many locations.



Seen:

MCW member Mr Mirza Shahid Basravi from Costa Mesa CA reported: I sighted the new moon on Feb 16th 2018 at 6:04 pm in the City of Costa Mesa, California. The tips of the new crescent were pointing towards 1:30 and 7:30 on the imaginary clock in the sky. Two other friends reported to me that they saw the new crescent around the same time from their home in Anaheim, Ca.
---
February 17, 2018 (Saturday):
Afghanistan:

Seen:

MCW member Engr M Ibrahim Mayar from Kabul reported: Today , Saturday, February 17,2018 at 18:00 O'clock local time; from my resident in Kabul Afghanistan I could see Jumade al-Thani crescent moon, to the SWW horizon, with naked eyes very clearly. the orientation of the crescent horn was from 2 - 8 O'clock at elevation about 12 degrees.

Egypt:





Seen:

MCW member Dr Hisham M. Hamed from Giza reported: I observed the crescent of Jumada alAkhira after sunset of Saturday, Feb 17th from the Shooting club in Giza (30.04N, 31.20E). There was a large grey cloud mass obscuring the western horizon. It had cleared up by 16:50, at which time the Sun was clearly visible. It was also at about 11° above the horizon, at around 249°41' Azimuth. That was close to where I was expecting the crescent after apparent Sunset (17:45). Specifically, I was expecting the crescent at 18:05, to be at an altitude of 13.8° at Azimuth 252.8°. And indeed after Maghrib prayers at just about that time it was clearly visible.

India:





Seen:

MCW member Mr Shahid Ali Farooqui from Amravati, Maharashtra,India Today, 17th Feb 2018 the new Moon of Jamadeul Akhar 1438 AH was sighted at 6:36 pm.

Indonesia:





Seen:

MCW member Mr AR Sugeng Riyadi from Kartini Beach Jepara Central Java reported: The new crescent of Jumadal Akhirah 1439 AH was seen on Saturday, 17 Feb 2018. The waxing crescent was sighted 5 minutes after sunset by me and mr friend mr. Ahmad Taufiq. The west horizon was clear with litle cloud.

Morocco:





Seen:

MCW member Mr Zakaria Guelzim from Rabat reported: The Ministry of Awqaf and Islamic Affairs of Morocco comunicated that they observed the crescent of the month of jumada II 1439 after Maghrib of Friday, 29 Jumada I 1439 / 16 February 2018 and contacted all the observers of Islamic affairs in the Kingdom and the Royal Armed Forces units that participated in the observation of the crescent. They all assured that it's vision was not proven. Thus, the month of Jumada I will complete thirty days, and the beginning of the month of Jumada II 1439 is Sunday, 18 February 2018.
Today, Saturday 17 February 2018. I was able to sight the new moon after sun set. The sun set was at 18:20 and the crescent was visible with naked eyes at 18:35. The crescent horns were from 3 o'clock to 7 o'clock. Click on the picture above to see the full size of a picture I took with my Photo Camera.

Namibia:





Seen:

MCW member Mr Ahmed Mohamed Barakah from Windhoek reported: The new moon was not sighted anywhere in namibia, however as we are neighbouring South Africa, we accept their sighting. Tonight Saturday 17th February moon was clearly seen.

Saudi Arabia:





Seen:

MCW member Dr Ayyub Patel from Abha reported: On Feb 17, Saturday from Abha Saudi Arabia, the crescent moon was seen very easily but only after 1hr from sunset. There was a big cloud that only opened a clear window before moon set. See picture before moon set 7:15pm local time

UK:





Seen:

MCW member Mrs Jamilah Amal from Liverpool reported: Crescent observed tonight (Feb 17, 2018) at approximately 17:39, around 15 minutes after the maghrib prayer. Location: Liverpool, United Kingdom. Welcome Jumada Al-Thani. Orientation of crescent from 1 o'clock to 7 o'clock.
---