Al urjoonul qadeem of Ramadan 1443: April 30 & April 29, 2022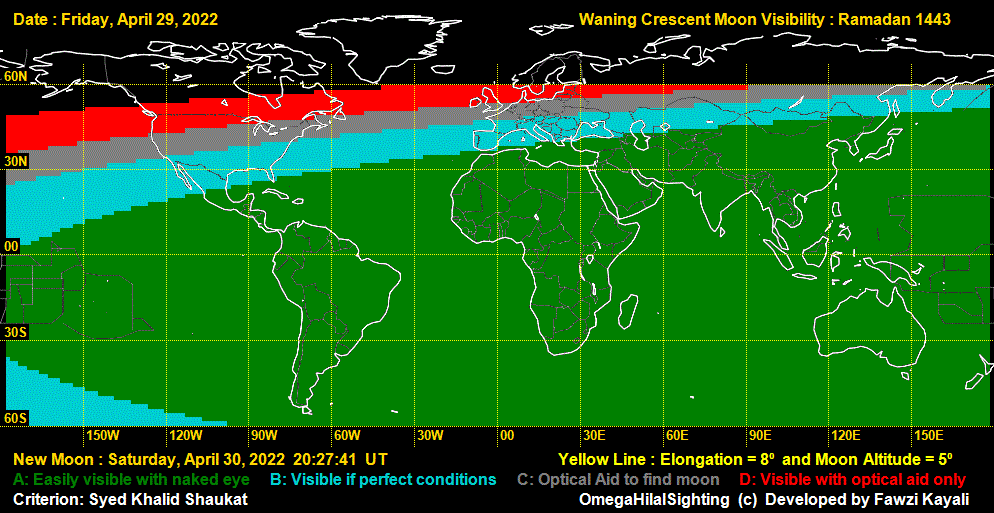 New Crescent Moon of Shawwal 1443:

The Astronomical New Moon (conjunction) is on April 30, 2022 (Saturday) at 20:28 UT. On that day, the moon can not be seen any where in the world. On May 1, it may be seen in Canada and Northern South America with binoculars; it will be seen in USA easily. On May 2, the moon can be seen in the whole world (See visibility curves).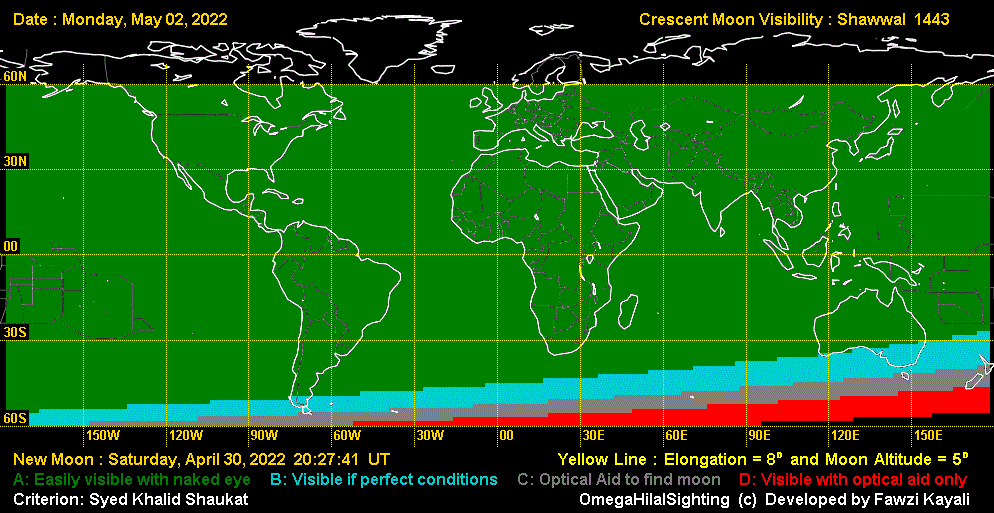 The earliest reported sighting of the new crescent was on ......... from ...................
April 30, 2022 (Saturday):
---
May 1, 2022 (Sunday):
---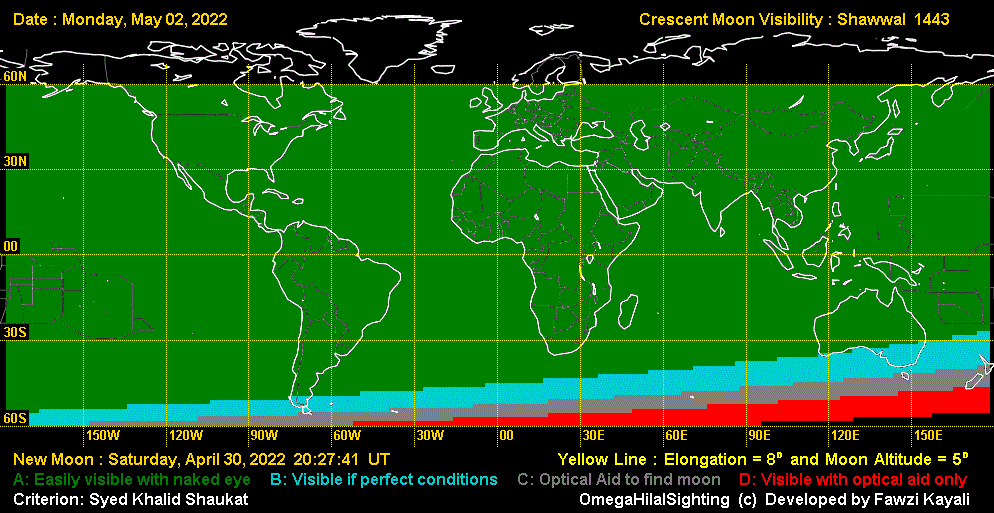 May 2, 2022 (Monday):
---
1st Day of Shawwal (Eid al-Fitr) in Different Countries (Updated when information is available) Countries that follow Saudi Arabia
Saudi Arabia
Afghanistan
Albania
Armenia
Australia
Austria
Azerbaijan
Bahrian
Bangladesh (Some areas follow Saudi)
Belgium
Bolivia
Burkina Faso
Chechnia
Denmark
Finland
Georgia
Hungary
Iceland
Iraq
Italy
Japan
Jordan
Kazakhstan
Kuwait
Kyrgizstan
Lebanon
Mauritania
Norway
Palestine
Qatar
Romania
Russia
Singapore
Sudan
Sweden
Switzerland
Syria
Taiwan
Tajikistan
Tatarstan
Togo
Turkmenistan
U.A.E.
Uzbekistan
Yemen
Countries that follow Turkey or ECFR or FCNA/ISNA (Eid is on ????)
Turkey (European Council for Fatwa & Research) Altitude >5°, elongation>8° anywhere
Angola
Bosnia and Hercegovina
Bulgaria
Canada (Most follow FCNA/ISNA)
Croatia
France (CFCM - French Council of Muslims)
Germany
Ireland
Kosovo
Luxembourg
Macedonia
Montenegro
Slovania
Serbia
USA (Most follow FCNA/ISNA)
Countries that follow some kind of calculations (Eid is on ?????)
China (Follow MeccaCalendar.org)
Egypt - Moon Born before sunset & moonset 5 minutes after sunset
Poland (Calculation)
Scotland (Visibilty Curves)
Tunisia (Criteria of age, or sunset-moonset lag)
Countries that have their own criteria; Eid date is as shown
Algeria (???????????)
France (UOIF - Union of the Islamic Organizations of France)
India - Hijri Committee of India
Indonesia (Official Announcement)
Libya (Official Announcement)
Malaysia (Official Announcement)
Maldives (Official Announcement)
Nigeria (Official Announcement)
Norway (Islamic Council of Norway - follow annoncement from any Muslim country
Oman (Official Announcement)
Philippines
Spain (Union of Islamic Communities of Spain (ucide.org), Islamic Commission of Spain)
Thailand (Announcement)
UK [National Council of Mosques London]
UK [Wifaaqul ulama), (Ahle Sunnat Wal Jamaat), OR (Sighting from countries east of UK)
UK [Markazi Jamat Ahle Sunnat UK & Overseas Trust
Countries that follow Local Sighting; Eid date as shown
Argentina
Australia (Indian and Pakistani Community)
Australia
Barbados
Brunei
Canada (Toronto Hilal Committee)
Chile
Colombia (Follow Chile sighting)
Dagestan
Fiji Islands
Ghana
Guyana
India
Iran
Kenya
Madagascer
Malawi
Maldives
Mali
Mauritius
Morocco
Mozambique
Namibia
New Zealand
Niger
Pakistan
Senegal
South Africa
South Korea
Sri Lanka
Suriname (News from Guyana if not seen in Suriname)
Tanzania
Trinidad & Tobago
USA
USA [Shi'aas Houston Hilal Committee, Chicago Hilal Committee]
Zambia
Zimbabwe
---

Back to Top